Heineken Experience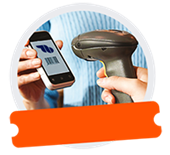 Show your Ticket
On your Phone!
Welcome to the world of Heineken... Here you can buy your Heineken Experience discount tickets!
The Heineken Experience, located in the heart of Amsterdam, is a haven every beer lover should visit! The former Heineken brewery – where the magic has been happening for over 100 years – has been transformed into a thrilling interactive display showcasing the fascinating world of Heineken. It is an extremely enjoyable attraction, especially for Heineken fans.
This is not the Heineken Museum, this is the Heineken Experience! Why? Because four levels of interactive experiences in the former brewery will plunge you chin deep into the captivating world of Heineken! Come and see for yourself, sample the beer and share the magic.
Discover the world of Heineken® through an interactive self-guided journey in the former Heineken® brewery.
Self-guided tour of approximately 1.5 hours
Download our free Heineken Experience app or rent a tablet
Audio tour available in 9 different languages: English, Chinese, Dutch, French, German, Italian, Portuguese, Russian, Spanish
*New opening hours:
From August 3 to August 30:

10:30 AM - 9:30 PM every day, last admission 7:30 PM

September (starting on August 31) :

10:30 am - 7:30 pm during weekdays Monday - Thursday (last entrance 5:30 pm)
10:30 am - 9:30 pm during weekends Friday - Sunday (last entrance 7:00 pm)
Opening hours (

Check modifications due to Covid*)

:

Monday till Thursday - 10:30-19:30
Last admission 17:30
Friday till Sunday - 10:30-21:00
Last admission 19:00

*in July & August the time applied is the same as on the weekends.

On presentation of this ticket, the Heineken Experience offers you:
2 Drinks and a Taste of Heineken
How does it work?
It is very simple. Just select a timeslot when you would like to visit the Heineken Experience. Once you have entered the Heineken Experience, then you can stay as long as you want.
Address:
Stadhouderskade 78, Amsterdam.
Tickets sent by email!
Powered by Ticketbar